The project OneWeb aims to provide high-speed Internet access from space, and therefore without the constraints of a terrestrial network, through a mesh of hundreds or thousands of small satellites positioned in low orbit around the Earth.
Several projects are under development but that of OneWeb is particularly ambitious and has brought together several leading industrial partners.
The Airbus Group will be responsible for the design and production of satellites, and to achieve this, a shift in perspective is needed. Instead of building a large, expensive, complex and time-consuming satellite, this is about producing a lot of small satellites in a short time.
OneWeb and Airbus have just inaugurated a production site at the chain of these satellites in Florida, near the firing points of Cape Canaveral. The factory Merritt Island will have to be able to produce 2 satellites per day for a very low production cost ($ 500,000) thanks to highly automated assembly lines.
Two copies will also be produced daily in Toulouse, where the assembly lines were initially tested and finalized, for a total production of 4 OneWeb satellites per day.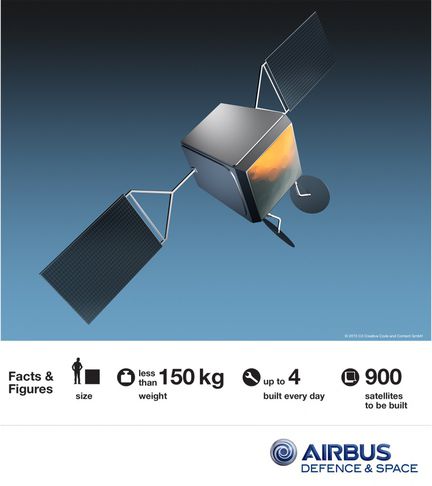 So there are about fifteen OneWeb satellites each weighing 150 kg which will be produced each week and will then be placed in orbit by Arianespace, with an estimated lifespan of 5 to 7 years depending on their operating altitude (500 to 1200 km) .
The project is taking shape while other initiatives have been talked about in recent months, such as Starlink of several thousand miniaturized satellites that wish to develop SpaceX, the firm of Elon Musk.
The latter has already made a first test shot of 60 micro-satellites at once to validate their deployment, their placement in orbit and the procedures of clearance and destruction, since here also the life of the devices will be only of a few years.