Each year, the international research organization Global Footprint Network evokes the day of global or world overrunning (or Earth Overshoot Day). And it's today.
On July 29, 2019, humanity has consumed as many renewable natural resources as Planet Earth is able to produce over a whole year. This is the earliest date ever recorded. It comes two months earlier than twenty years ago.

Over the next few months, humanity will "live on credit" according to the Goblal Footprint Network footprint indicator. Currently, it would take 1.75 Earth for a balance.
By adopting a lifestyle similar to that of France, humanity would need 2.7 Earth planets to support itself.
According to the international non-governmental organization WWF (World Wildlife Fund), which is involved in the calculation of this symbolic date, France must stop signing trade agreements such as the EU Comprehensive Economic and Trade Agreement (CETA) and Mercosur (Southern Common Market) " that generate deforestation, massive imports of meat emitting even more CO2. "
If humanity lived like Americans (USA), it would need 5 Earth planets. Other elements of comparison are given in the table below: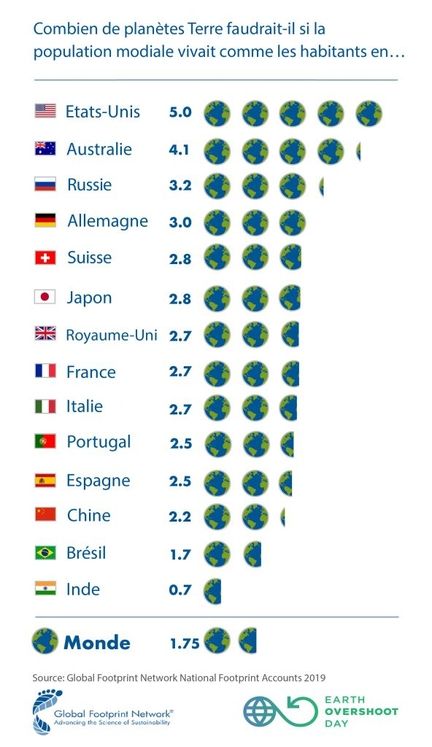 Regularly refined, but also sometimes disputed, the calculation of the Day of the world overrun relies on three million statistical data of 200 countries. It is a comparison between humanity's annual consumption of ecological resources and the Earth's ability to regenerate, or in other words a comparison between ecological footprint and biocapacity.
WWF France invites everyone to calculate their ecological footprint on the calculator of the Global Footprint Network and download its WAG application to act at its level by becoming more eco-responsible.