Thedread scenes follow and look alike for Greg Zanis. As after every mass killing, this 68-year-old carpenter went to the scene of two shootings on August 3 and 4 in the United States, to build a new one. © morial. Like every time one of these dramas drowns America, for twenty-two years. Thirty-one crosses were placed in Dayton (Ohio) and El Paso (Texas) – one for each victim.
The sinister routine begins again for this man who crossed already, two years earlier, the country of Chicago in Las Vegas to install cross there after the most deadly slaughter that knew the country: 1st In October 2017, an insider shot from his hotel room on 58 people attending an outdoor country music festival. Greg Zanis was also there, in 1999, to pose crosses after the killing of Colombine High School (13 dead), but also after that of Sandy Hook Elementary School in 2012 ( 28 dead) as well as 49 dead at Pulse, a gay club in Orlando, 2016.
Greg Zanis is on his own a traveling memorial. "I was this year in Virginia Beach, where a shootout took place. But I also went to New Hampshire when a motorcycle crash caused the death of seven people, " tells the Texas chain KXAS-TV this Greek-American carpenter, who takes the road to every great tragedy involving "Sudden deaths". Greg Zanis has already built more than 26,000 crosses since 1997.
His motivation, this devotion for victims that he has never met, he can mainly in his faith, he who describes himself as a fervent believer. "Maybe it's something you will not understand, but as a believer, today is the day of their birth. [les victimes]. They are now in paradise for eternity and will have the chance to be reunited again with their family members ", he explains to KXAS-TV.
Read also
USA: Already 348 dead in 297 mass shootings in 2019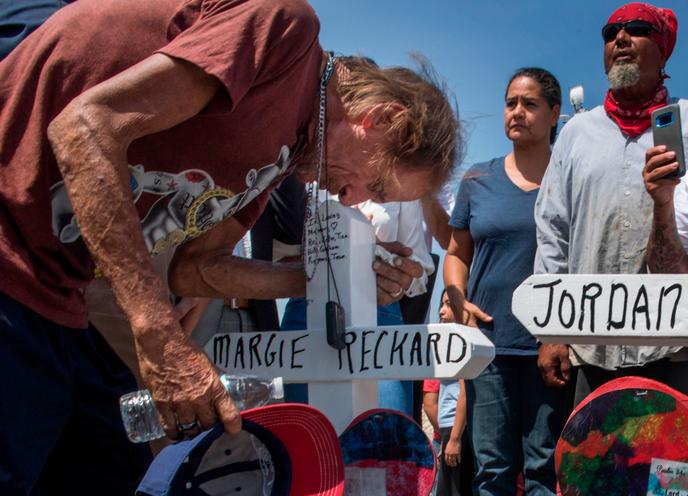 A voluntary commitment
It's a family drama, twenty-two years earlier, that triggered everything. A gun murder that he tells with emotion to the Texas chain: "I lost my father-in-law in 1996. I found him in a pool of blood in the basement, a bullet in his head."
In a report that the New York Times dedicated him in February, the carpenter says that this traumatic event has made him lose twenty pounds and join a support group. A woman in the group then offered her 20 dollars to make a cross in memory of her 6 year old daughter. He refuses the money, but realizes even the cross. He will then repeat this gesture for other members of his support group who have lost loved ones.
Greg Zanis says he pays for the cost of the trips and the material needed to build crosses, even though he receives donations from his association, Crosses for Losses. The wooden crosses are 1.20 meters high and bear the name of each victim, serial number, date and place of death, as well as a coin. Heart-shaped containing a verse of the Bible.
Although the carpenter has become, over the years and killings, a regular in US national media (ABC, the Washington Post, the National Herald, etc.), he prefers to operate as discreetly as possible, so as to be perceived as someone who is approachable: "People feel free to call me, no matter what the national tragedy is going on"he explains.
Read also
In the United States, more firearms in circulation leads to more deaths
Reply or view all contributions