Pakistan announced Wednesday, August 7, the expulsion of the Indian ambassador based in Islamabad as well as the recall of its ambassador to New Delhi, and the suspension of bilateral trade with India. This declaration comes two days after New Delhi's revival of the constitutional autonomy of Jammu and Kashmir, the part of Kashmir it controls and which Pakistan claims.
The Himalayan region has been under a lead slush since Sunday night: all means of communication are blocked, the tourists present have been sent home, the traditional pilgrimage of Amarnath was annulled and 35,000 paramilitaries were deployed in the area.
Read also
Indian Kashmir, a region cut off from the world
Despite the heavy security deployment and travel and assembly bans, residents of the large city of Srinagar reported sporadic demonstrations.
A police official expressing himself on condition of anonymity told Agence France-Presse (AFP) that a young protester pursued by the police had "Jumped into the Jhelum River and died" Tuesday. The facts occurred in the old city of Srinagar, a bastion of protest against India that many residents of Kashmir, a Muslim majority area, perceive as a force of occupation.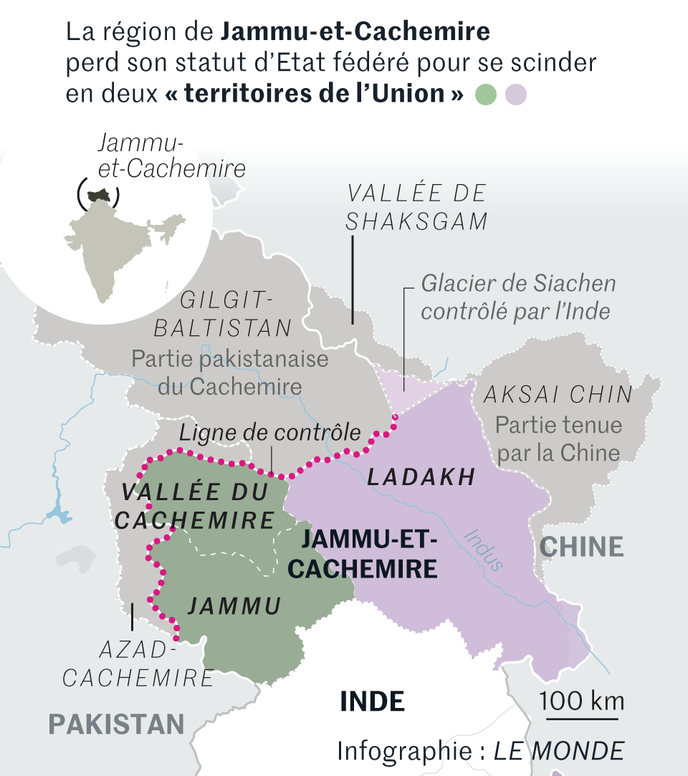 70,000 dead since 1989
Protests on the spot have also left at least six wounded, according to fragmentary information obtained by AFP. A hospital in the city of Srinagar has received six people with gunshot wounds or non-lethal weapons, a health official at the school said.
Since 1989, the forces of the order are indeed attempting to suppress a separatist insurrection, in a conflict that has left more than 70,000 dead, most of them civilians. Authorities have justified the measures of recent days by the possibility of a terrorist attack supported by Pakistan, accused by India of lending a hand to rebel groups.
Article reserved for our subscribers

Read also
Kashmir: India takes the risk of conflagration
Reply or view all contributions